Cast iron is one of the best materials out there for cooking. It has excellent heat distribution and retention, works with every cooking method known to man, is durable enough to last several lifetimes, and makes excellent food while being naturally fairly nonstick.
It's hard to go wrong with cast iron, so this list is more about which items stand out from the sea of very good, but fairly generic sets, narrowing it down to what I think are the most interesting and overall best cast iron cookware sets.
What Makes Cast Iron So Great?
Cast iron combines some of the best properties of ceramic and steel cookware. Like steel, it can heat up to very high temperatures without breaking. This makes it ideal for both baking and searing. A more in-depth comparison is made in our cast iron vs stainless steel cookware review.
It is also, when properly seasoned, naturally nonstick, allowing for easy cleanup. It also combines the relative durability of steel with that property, making it outperform either in almost every regard.
7 Best Cast Iron Cookware Sets Reviews of 2022
Geovein is an OEM ODM Cast Iron Cookware Manufacturer. We provide a wide variety of durable and eco-friendly iron cookware, cast iron skillet, cast iron pan and pot etc.
We can also customize cast iron cookware set according to your demands, different color, surface treatment, combination is available.
1. 5 Piece Enameled Cast Iron Cookware Set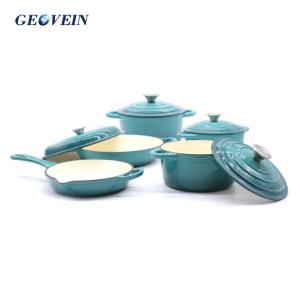 The 5-piece enameled cast iron cookware set provides even heat distribution and superior heat retention, colorful exterior enamel resists chipping and cracking.
This 5-piece enameled cast iron cookware set is a good gift for decorating a new house or as a gift.
2. Enamel Cast Iron Cookware Sets For Home Kitchen And Chef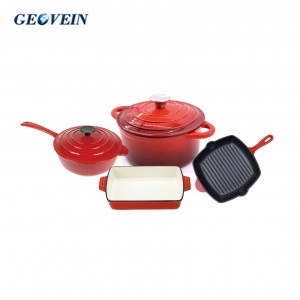 Geovein Expertly crafted from enameled cast iron. This is a great set, 4 pieces of high quality cast iron that gives you a great amount of versatility to work with.
Enameled Cast Iron Cookware Set Includes:
a enameled cast iron dutch oven

a enameled cast iron sauce pot

a enameled cast iron roasting pan

a enameled cast iron grill pan
3. Cast Iron Skillet Set 3-Piece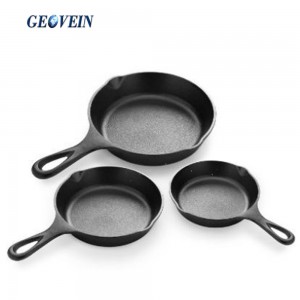 These cast iron skillets have a smooth finish to help provide even heat distribution for improved cooking and frying, even on grills, stoves or induction cooktop.
The 3 piece set includes 10 inch, 8 inch and 6 inch pans
4. Pre-Seasoned Cast Iron Skillet Set Frying Pan Set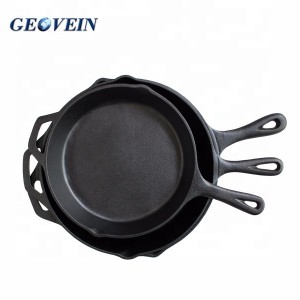 While the same standard sizes as used by your usual skillets, instead of the single handle, these pans come with a pair of looped handles, one on each side, which provide a firm grip.
This makes these pans well enough usable on the stovetop for any purpose you'd care to use a skillet for (and the larger ones also have a convenient spout for pouring off grease and other liquids), but makes them exceptionally good for baking, being far more easily removable than a cast iron pan with a single handle.
5. Cast Iron Combo Cooker 2PCS Set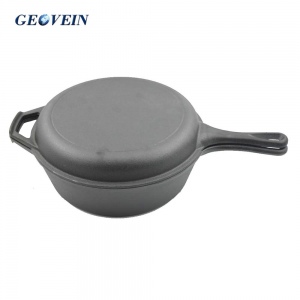 The combo includes a pot and a skillet.
This cool new 2-In-1 Combo Cooker is a space-saving, versatile, and brutally tough cast iron cookware set that combines a deep skillet / fryer / Dutch oven with a convenient lid that doubles as shallow skillet / griddle.
6. 2 In 1 Cast Iron Double Dutch Oven Set Combo Cooker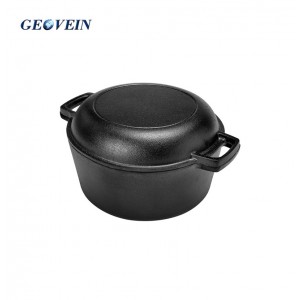 Use the pan and skillet separately, or use the frying pan as a lid to create a double Dutch oven. Sear, fry, bake, grill, broil, braise and sauté anything indoors and outdoors - on grills, induction, and stovetops.
7. 9 Piece Cast Iron Camping Cookware Set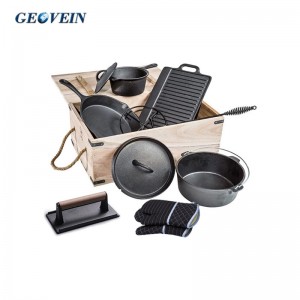 Gather the camp cookware collection with the Geovein 9 piece Gourmet Cast-Iron Cookware Set in a vintage-style wooden box.
The set includes a griddle pan, skillet, lid lifter, Dutch oven with lid, saucepan, Oven Glove, Bacon Press, and Dutch oven rack so you have the right cookware to prepare any food at camp, no matter frying, stew, braise, barbecue, etc. These cookwares can also be used indoors.